Ten Trails Movie Night in the Park, June 28th 2019
Ten Trails premiered its first-ever movie night in the Civic Park this past Friday night with a showing of The Sandlot! Prior to the movie, guests enjoyed food truck fare, music, yard games and bouncy houses More than 25 vendors lined Fir Street by the park, offering up varied goods from pickles to live edge furniture!
Join us for our next Sunset Market event on July 13th at 6 pm in our Civic Park! For details, follow us on Facebook @TenTrailsHometownSocial.
360-469-4043
www.TenTrails.com
Ten Trails Hometown Social Movie Night: Friday June 28th
Ten Trails Hometown Social Movie Night: Friday June 28th
Join us on Friday, June 28th for our very first Hometown Social event of the summer season featuring a screening of The Sandlot in our Civic Park! The movie begins at dusk, but the fun starts at 6 pm! We will have bouncy houses, yard games, food trucks, more than 25 vendors, and a beer garden, making for a fun night for every member of the family.

Food Trucks and Vendors
Bring your appetite because we will have plenty of food to enjoy at Hometown Social! Grab dinner from the Gypsy Doggs hot dog trailer, the KC Deez BBQ truck, or the Big Boys Filipino Food Truck. Finish off your meal with some freshly-popped kettle corn!
Activities for All Ages
There's fun to be had for all ages at Hometown Social! In addition to the movie, we will have yard games like corn hole, and our bocce ball and basketball courts will be open for play. Head to our beer garden for a tasty adult beverage any time starting at 6 pm.  All vendors and the beer garden will be open until the movie is over!
To learn more, follow us on Facebook, @TenTrailsHometownSocial, and to find out about upcoming summer events at Ten Trails!
360-469-4043
www.TenTrails.com
Our Ten Trails Spring 2019 Newsletter is Here!
Read all the latest news and information on this new master-planned community, located in Southeast King County! Featuring new single family homes, modern duplexes townhomes, parks, trails and a retail village!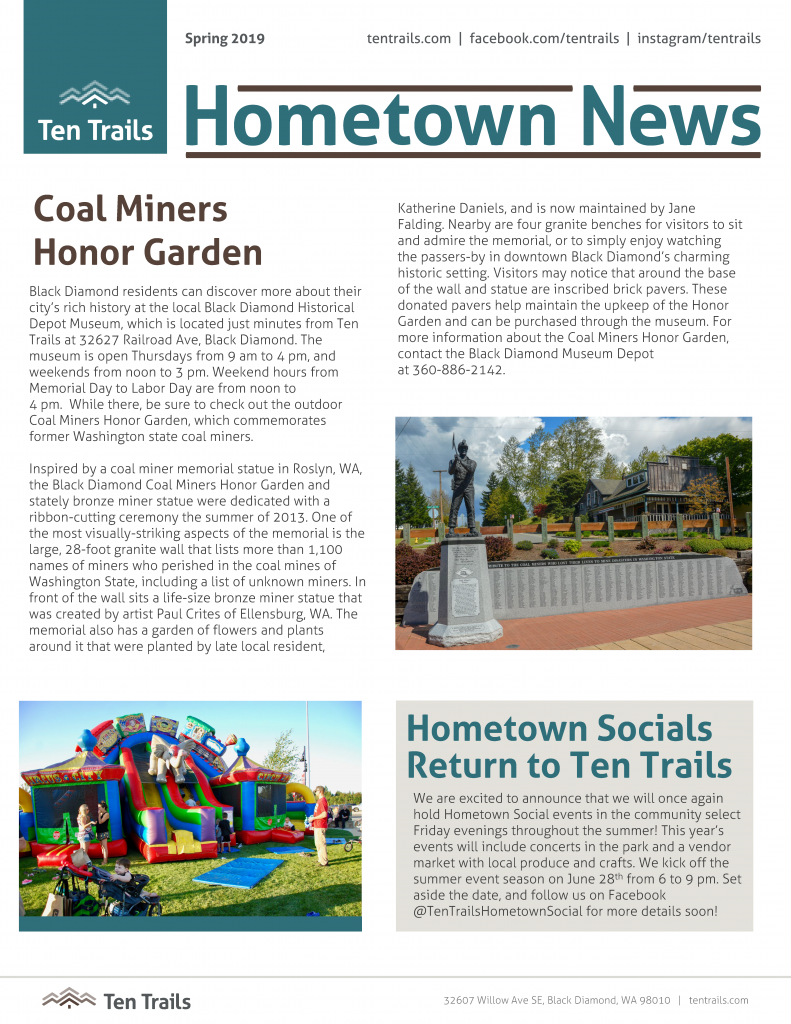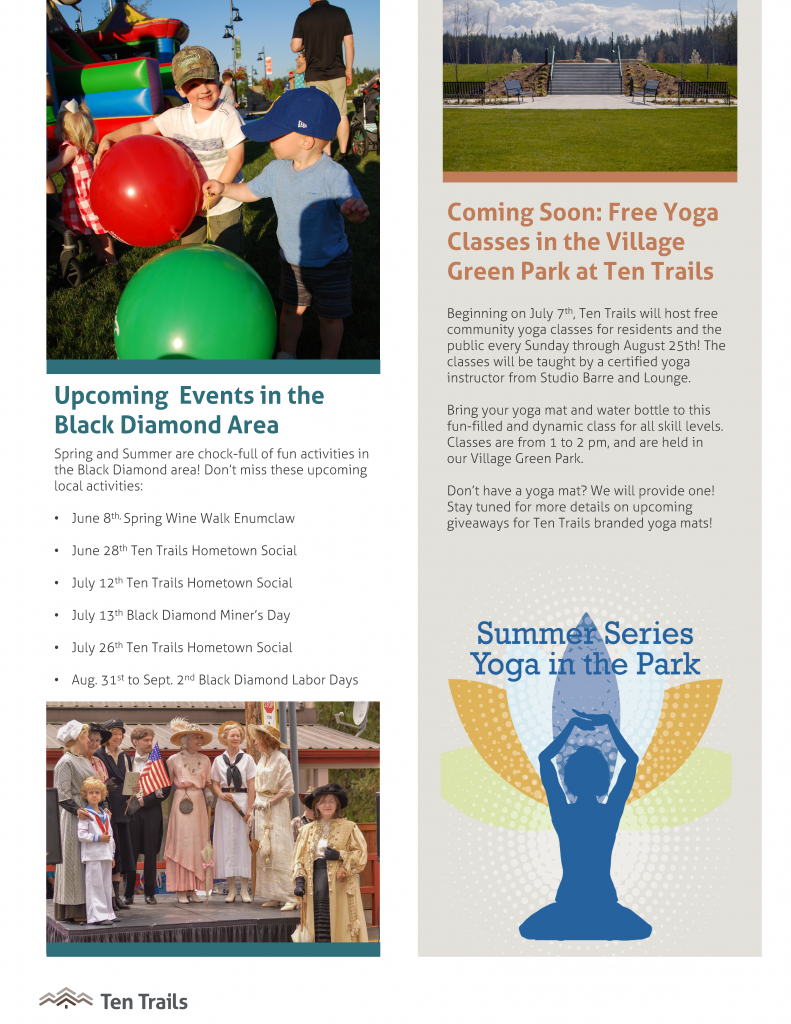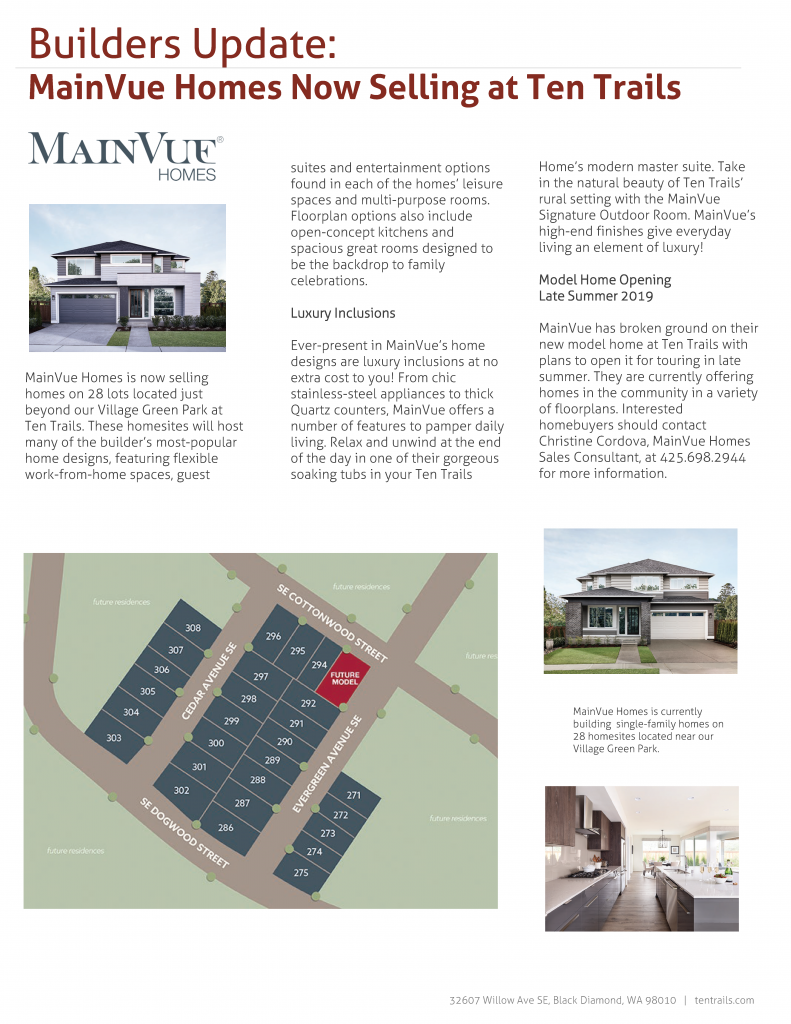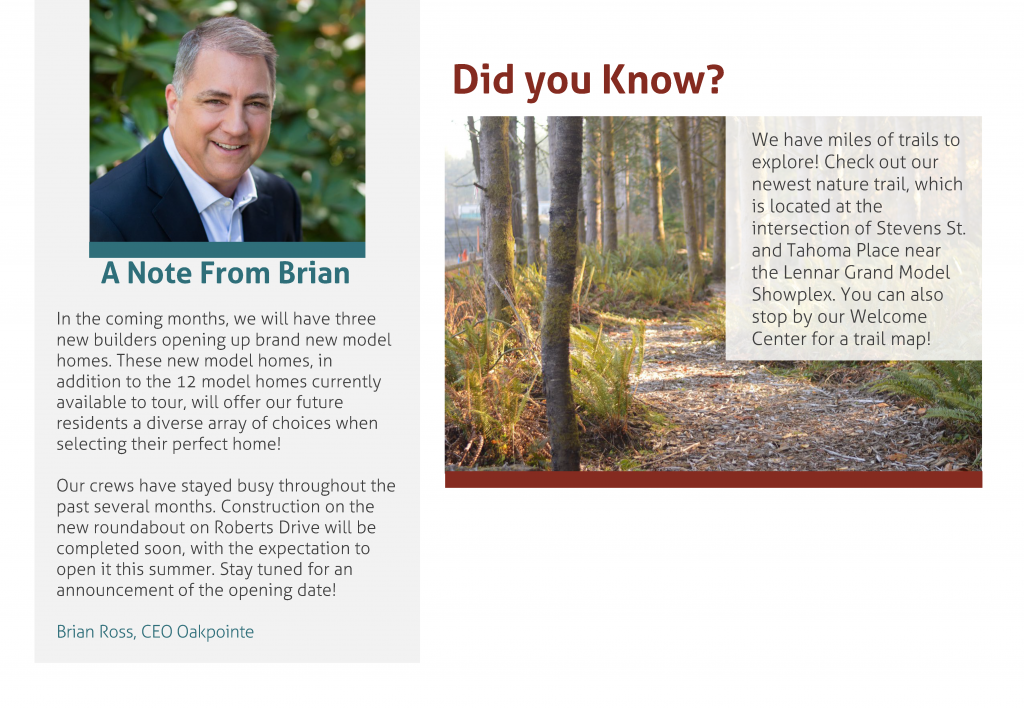 Ten Trails Residents Have Their Pick of Local Breweries for Sampling Tasty Microbrews 
Ten Trails Residents Have Their Pick of Local Breweries for Sampling Tasty Microbrews 
Seattle brewers have a long established reputation for serving up great quality beer, but the city isn't the only place to find delicious microbrews!  Several businesses are brewing up craft beers within a short drive from Ten Trails. Proud of their small batches, imaginative brewers, and award-winning beers, these businesses might just be serving up the refreshments you're looking for this summer.

Lumber House Brewery
Located just two miles from Ten Trails at 30741 3rd Ave. Ste. 133,  Black Diamond, Lumber House Brewery offers a family-friendly tasting room with imaginative beer selections and cider. Check out their Facebook page for weekly events at the tasting room.
Four Horsemen Brewery
Four Horseman Brewery in nearby Kent serves up beer and soda on Saturdays. Kids and pets are  welcome in their tasting room which is located at 30221 148th Ave SE.
Cole Street Brewery 
Cole Street Brewery is located in the charming downtown area of nearby Enumclaw. The brewery features an indoor and outdoor tasting room with snacks to enjoy alongside your pint. The tasting room can be found at 2551 Cole Street in Enumclaw, only nine miles from Ten Trails.
Headworks Brewery 
Also, in Enumclaw, Headworks Brewery serves up ales, pilsners and IPAs that are sure to please any palate. Check out their website for a schedule of local food trucks who will be parked at the tasting room for visitors to enjoy a meal alongside their tasting flight.
Manfish Brewing 
Manfish Brewing brews in the shadow of Tiger Mountain and serves their beer in local pubs. They don't have a tasting room, but you can check their website for a list of establishments where you can find their beers.
Scamp Brewing 
Bring your food, pets and family to the local Scamp Brewing tasting room in nearby Auburn where they serve up innovative brews like their cold brew porter or chili mango IPA. Just a few miles from Ten Trails, Auburn is home to two additional local breweries:
Geaux Brewing 
With owners who hail from New Orleans, Geaux Brewing serves up northwest-style brews with Cajun soul and influences. Stop by their tasting room in Auburn and sample their Cajun and creole menu items along with their many craft beers.
Rail Hop'n Brewing 
Located about 12 miles from Ten Trails in downtown Auburn, Rail Hop'n Brewing serves espresso and appetizers in addition to a wide selection of beers. Pets and families are welcome in their cozy tasting room.
360-469-4043
www.TenTrails.com
Meet Jodi Pannell-Kay, Association Manager for Ten Trails
Meet Jodi Pannell-Kay, Association Manager for Ten Trails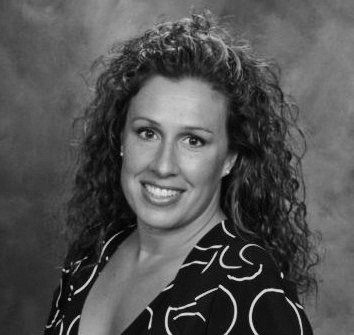 Ten Trails is happy to introduce Jodi Pannell-Kay, Association Manager for the community! Jodi is the on-site contact for all homeowners' association-related questions in the community, and a wonderful addition to our team! Jodi has a wealth of experience working for associations in the Palm Springs area, and she brings a high level of expertise in managing associations for large, planned communities.
Jodi is a Washington native and spent a great deal of her time in her childhood ski-racing for White Pass near Packwood. Her love for adrenaline sports carried over into adulthood, and she enjoys spending her free time snowboarding and rock-climbing in addition to playing pickleball with her husband, or hiking some of the local trails.
Jodi is looking forward to meeting all of the future and current residents at Ten Trails, and working with Oakpointe, Ten Trails' developer, to continue to make the community a wonderful place for families to live. "I want to make sure everyone knows just what a welcoming community this is," says Jodi. "My door is open, and I look forward to getting to know members of this growing community."
Visit Jodi at the Ten Trails Welcome Center 
Jodi can be found at the Ten Trails Welcome Center Tuesday through Friday from 10 am to 5 pm. For questions about HOA dues, the covenants at Ten Trails, or to contact Jodi directly, email her hoa@tentrails.com.
360-469-4043
www.TenTrails.com