Event
Visit Ten Trails and Take Part in our Community Scavenger Hunt 
Visit Ten Trails and Take Part in our Community Scavenger Hunt 
Since most of us will not be able to take any beach vacations this summer, we thought we would bring some beach-y fun to Ten Trails! We are hosting a weekly Scavenger Hunt contest throughout the month of August! Each week, find the hidden Flamingo Gnome somewhere at Ten Trails, take a socially distanced selfie with it, and send your photo to
info@tentrails.com
.
Your emailed photo automatically enters you to win a  $50 gift card for local takeout!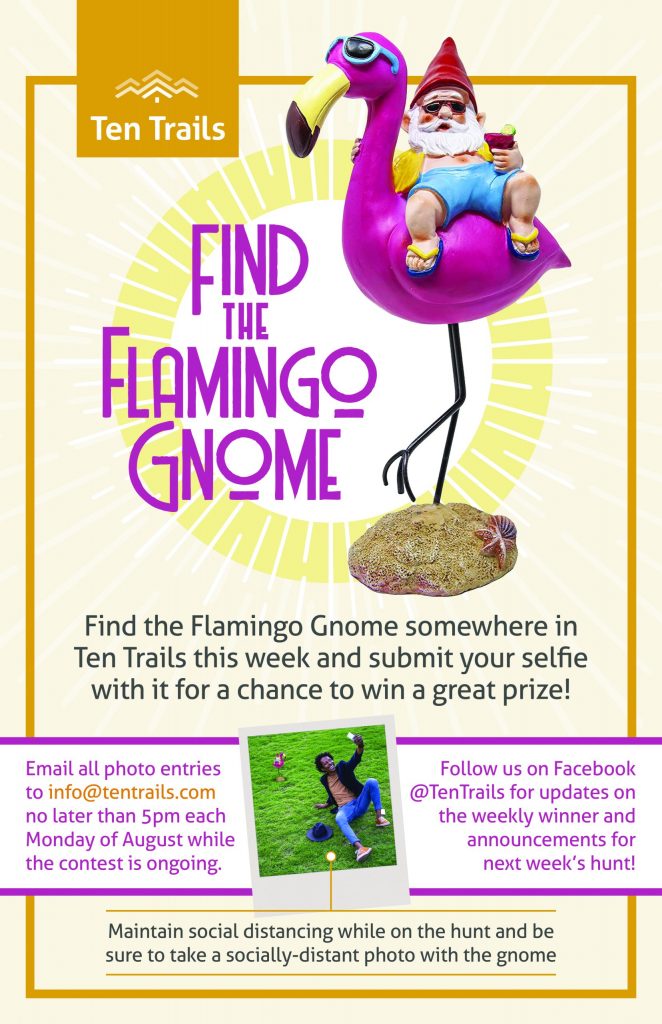 New Hiding Spot Each Week 
Our beach-loving gnome will have a new hiding spot each week within the community! Look for it on your next stroll through the community and keep in mind he will be hidden somewhere within the community common areas – that is our parks, trails, rain gardens, fire pits, and community pathways. We ask that in order for this hunt to be as safe as possible, participants maintain social distancing when looking for the gnome, and avoid picking up or moving him when taking a selfie.
How to Enter to Win
Submit your photos by 5pm each Monday in August. We will randomly select a winner for the contest and announce it Wednesday on our
Facebook page, @TenTrails.
Be sure to follow us so you don't miss out on any contest updates! 360.469.4043
www.TenTrails.com