Find Plenty of Desirable Kitchen Features in Brand New Homes at Ten Trails 
Our gorgeous, brand new homes in the community have countless modern features to make everyday living that much easier. This includes WiFi-certified homes, multi-generational floorplans, and flexible living spaces. Our builders also offer homes with modern kitchens designed with all the features today's homebuyers desire like double ovens, quartz countertops, oversized kitchen islands, clever storage solutions, and cabinetry that you can customize to your taste. Create the kitchen of your dreams or select from one of our builder's many spec homes – all with kitchen features that will get you excited about cooking this winter!
Double Ovens 
Double ovens are a luxury that avid bakers and homeowners who favor large family get-togethers cannot live without! Imagine how nice it would be to cook Thanksgiving dinner in your new Ten Trails home without having to shuffle dishes in and out of a single oven while overcooking some things and undercooking others?
Quartz countertops 
Attractive, durable, and available in a wide range of colors and styles, quartz countertops are an excellent choice when customizing your new Ten Trails home. Many of our builders offer home options with quartz countertops included, or as an upgrade when customizing your home.
Oversized kitchen islands 
Many of our builders offer floorplans with large or oversized kitchen islands. Kitchen islands are the perfect place for informal family meals, or a place for friends and loved ones to gather when entertaining. More kitchen island space also means more countertop prep space for little ones to help prepare meals for the family.
Clever storage solutions 
Making the most out of the space in your home is not just for closets and storage areas! Kitchens are used for storing any number of things including appliances, cookbooks, cookware, dishes, and more. Our builders have designed kitchens with plenty of integrated storage and pantry space so you can fit all the gadgets and Costco-sized snack packs for the entire family.
Customized Cabinetry
Our builder teams offer kitchens with cabinets in an array of colors and styles, and many of our builders offer options to customize the type, style, and color of cabinets you desire for your dream kitchen! Browse through our
builder pages
to view photos of completed homes by our builder teams to get started on designing the kitchen of your dreams!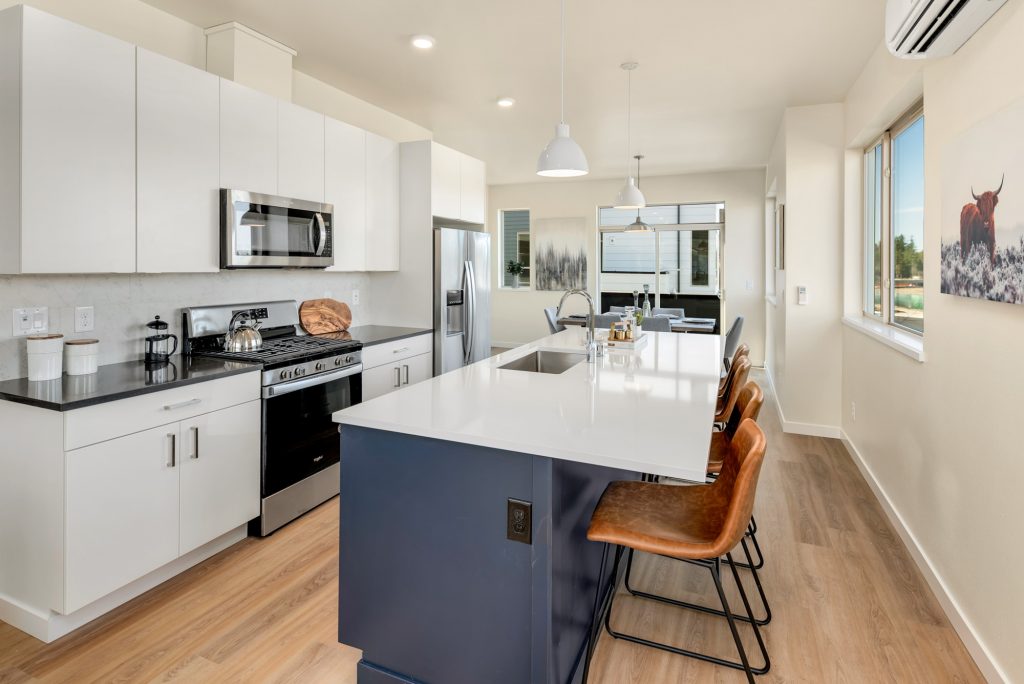 360.469.4043
www.TenTrails.com