Five Hiking Spots to Explore This Spring
Nearby Hiking this Spring
As the days get longer and warmer, and your spring fever sets in, you might have the urge for a little hiking with the family. Listed below are five local hikes near Ten Trails that might be just what you need to ease the cabin fever this spring!

Mud Mountain Rim 
This trail can be found 17 miles from Ten Trails at the Mud Mountain Dam Recreation Site, not far from Enumclaw. This is a relatively easy hike, 4.2 miles each way. The recreation site offers a playground, picnic area, and family-friendly hiking. Vista sites near the park provide the opportunity to view the dam and White River below with the added bonus of free parking in the nearby lot!
Squak Mountain 
Part of the Issaquah Alps, the Squak Mountain trailhead is 19 miles from Ten Trails. This is moderate in difficulty and less crowded than the nearby Tiger Mountain trails. The hike is 6.6 miles roundtrip. A Discover Pass is required for parking at the trail head.
Pinnacle Peak (Mount Peak)
Not far from Enumclaw, this hike is about 20 miles from Ten Trails. This short but steep hike is two miles roundtrip and offers stunning views of Mt. Rainier and the surrounding valley with free parking for hikers.
Federation Forest Trail 
Near the town of Greenwater, Federation Forest State Park can be found 26 miles from Ten Trails. This is a relatively easy roundtrip hike of five miles and begins with an Interpretive Center that is open April through October. This is a delightful trail through old growth forest, alongside the White River, that is great for a family day trip. A Washington State Parks Discover Pass is required for parking.
Snoquera Falls Loop 
For residents looking to venture a little further out this spring, the Snoquera Falls Loop trailhead parking lot can be found 38 miles from Ten Trails. The loop is a moderate roundtrip hike of 3.9 miles, peaking at a lovely waterfall that roars in the spring and trickles in the summer. A Northwest Forest Pass is required for hiking.
There is no time like the present to discover what can be found just outside Your New Hometown! Happy trails! For more elevation details and maps to the above locations, go to the website for Washington Trails Association:  https://www.wta.org/
360.469.4043
www.TenTrails.com
Enumclaw School District Kindergarten Roundup Coming Soon
Kindergarten Roundup Coming Soon for the Enumclaw School District
If you have a child who is turning five before September 1, 2019, you'll be interested to know that Kindergarten Roundup for the Enumclaw School District is coming soon!  The Kindergarten Roundup is a registration/orientation session that is offered for all parents and students to learn about what to expect for the next school year. The district offers a full day, five-days-per-week, kindergarten program at no cost to parents.

Ten Trails Residents Kindergarten Orientation
For Ten Trails residents, kindergarten orientation for Black Diamond Elementary School is scheduled for March 21st at 6:30 p.m.
Register for the Event
To register your new kindergartner at this event, you will need to bring your child's birth certificate, immunization record, and proof of residency. For more information call the school at 360-802-7570 or visit the Enumclaw School District website: http://www.enumclaw.wednet.edu/calendar/NewsItem.aspx?id=1062&pageIndex=0
www.TenTrails.com
360-469-4043
Twelve Models to Explore at Ten Trails
Visit Ten Trails and Explore our Twelve Model Homes
When you visit Ten Trails, you can not only tour our beautiful parks, explore our trails, and meet our friendly team at the Welcome Center, but you can also check out 12 builder model homes from two of our amazing builder partners!
Conner Homes Model Home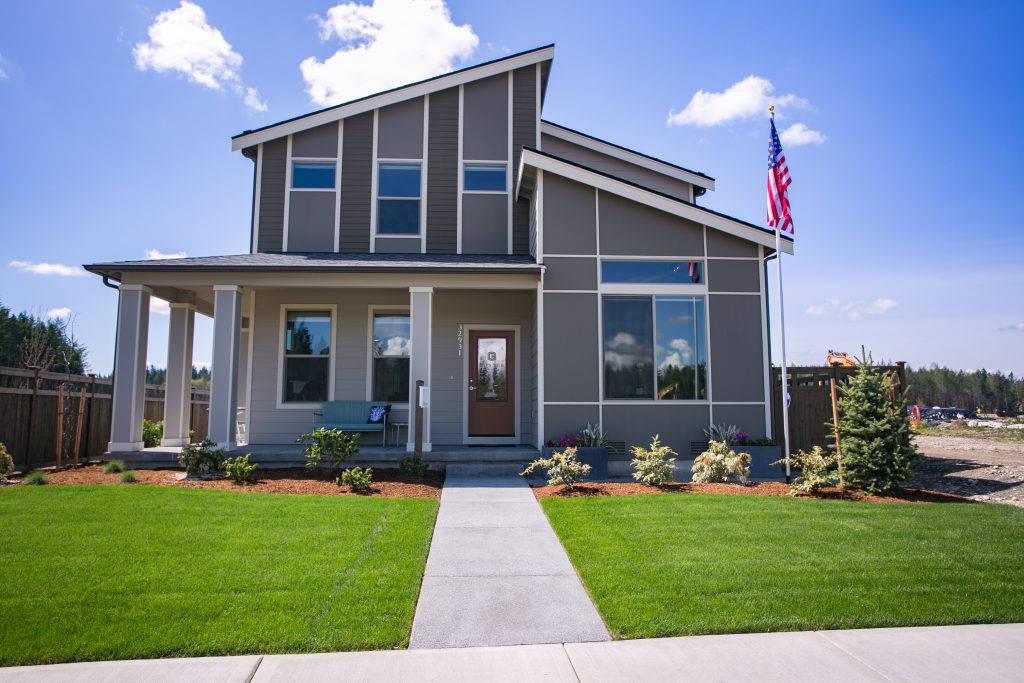 When you visit Ten Trails, be sure to stop by the Conner Homes model, located at 32931 Pine Ave SE, Black Diamond, WA 98010. This lovely home has modern accents with an open floor plan well-suited for busy families. This home also has the distinction of being the first model home open in the community! The house was recently re-staged so take a moment to check out all the lovely new furnishings.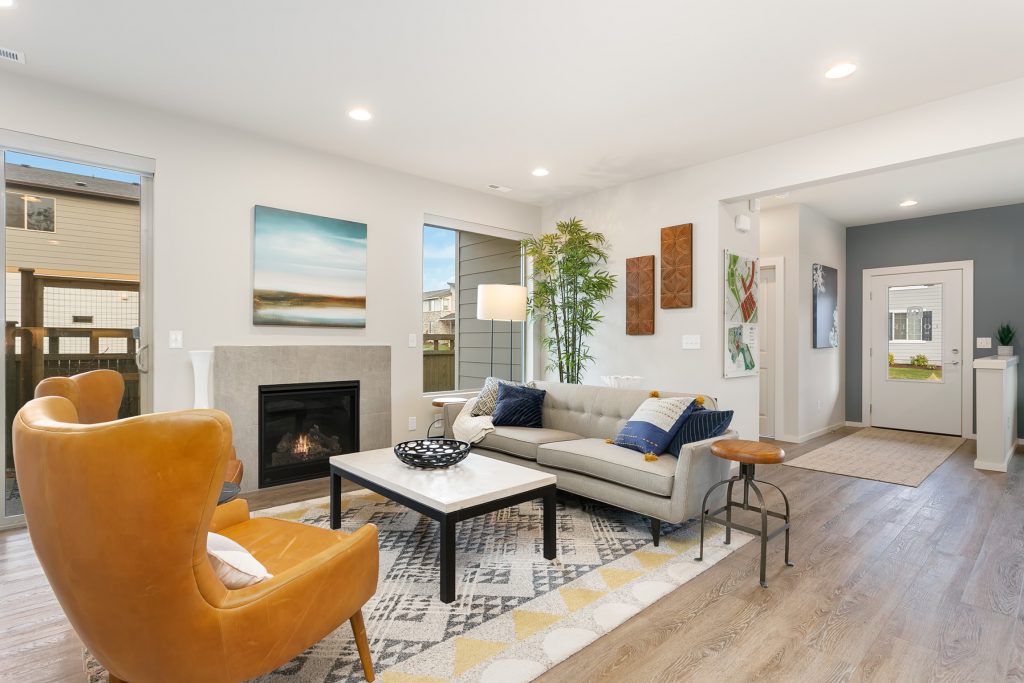 The Cottage Collection by Lennar
Ten Trails Cottage Collection will feature 33 homesites with six unique floorplans to choose from, ranging from approximately 2,331 to 3,199 square feet. Located in the heart of this growing community, the Cottage Collection homes by Lennar are conveniently located  near our upcoming Retail Village! Tour three models from this collection: The Riverwalk, the Whistler and the Blanchard. 

Ten Trails East Village Collection by Lennar
Ten Trails East Village features some of the community's most sought-after homesites, with many backing to protected green spaces or adjacent to our longest nature trails to date. In the East Village Collection, Lennar is offering 11 of it's most popular floorplans to choose from, ranging from approximately 2,350 to 3,862 square feet. Included in the collection are the Hickory,the Aspen, the Magnolia, the Clark, the Sequoia,the Ballinger, the Grandview, the Carnation, the Columbia, the Bailey, the Bainbridge, and the Whitman.   The East Village Collection is also home of Lennar Seattle's Grand Model Showplex: a courtyard of eight lovely new builder model homes, complete with a new Amazon Experience Center.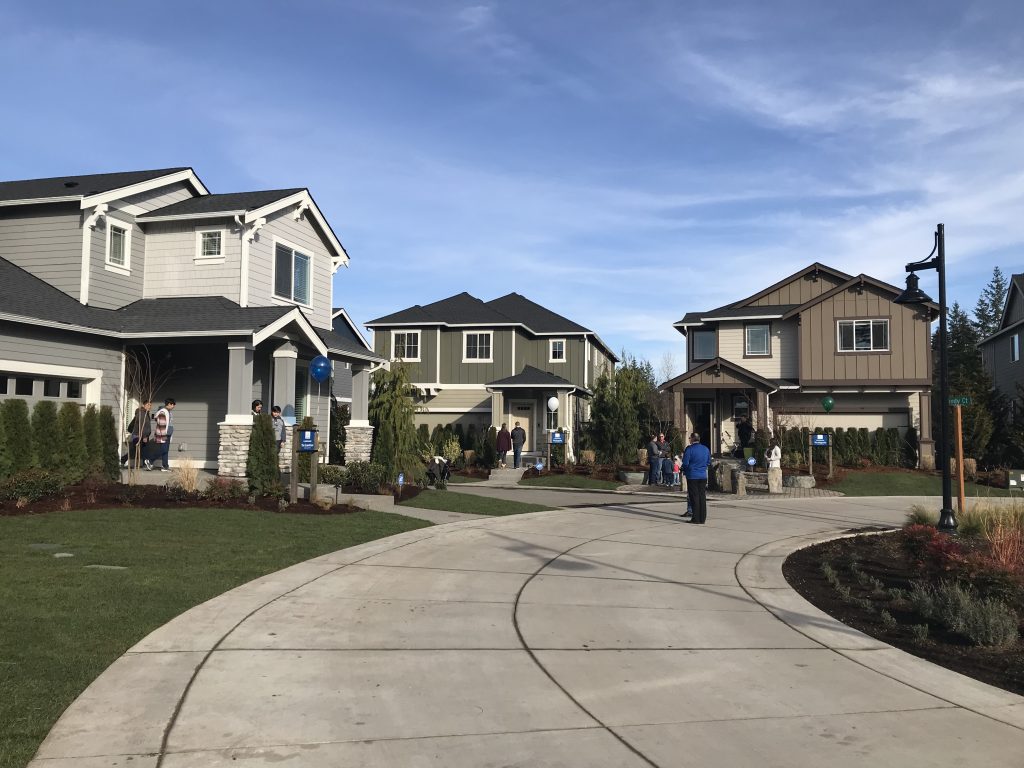 Our Models are open daily! Stop by our Welcome Center for a map to these homes!
www.TenTrails.com
360-469-4043
Plan Now for Spring/Summer CSA Memberships
Plan Now for Spring/Summer Local CSA Memberships
Get the Freshest Produce of the Season
Spring is almost here and now is the best time to start researching and signing up for spring/summer CSA memberships! Local CSA memberships are a great way to get fresh, local produce either delivered to your home,  or picked up from a convenient dropoff location.  Local CSA's offer weekly, or bi-weekly memberships, so you get the most fresh, in-season fruits and vegetables selected for you when they are in season! Some local CSA's even offer other farm products like fresh-cut flowers, fresh eggs, and grass-fed beef.

Local Farms with CSA Memberships:
There are many farms close to Ten Trails that offer CSA memberships. Check out Local Harvest for a full listing. Some farms of note are:
The Mason Jar Farm
Located in nearby Enumclaw, the Mason Jar Farm opens for the season in May. The farm property also has a "farmstay" program where you can stay on-site in their bungalow, Airstream trailer or tipi and experience farm life firsthand.
Hell or High Water Farm
Also located in Enumclaw, Hell or High Water Farm has a CSA egg program with a pickup location in nearby Auburn.
Whistling Train Farm
Whistling Train Farm is located in Kent in the fertile land between the Burlington and Northern Pacific Railroad tracks. CSA members receive special perks like all you can pick peas, beans, and cut-flowers in their u-pick area, farm maps for self-guided tours, and farm pot-lucks and work parties!
For a full listing of area farms, visit Local Harvest's website. 
www.TenTrails.com
360-469-4043
First-Time Home Buyer Education Class
First-Time Home Buyer Education Class Presented by Conner Homes
Interested in purchasing a new home and are a first-time home buyer? We have the class for you! Learn about no down to low down payment programs., down payment assistance programs, and how to qualify at this educational class put on by Conner Homes! Those who attend the class will receive at $5,000 buyer bonus gift certificate when purchasing a new Conner Home.*

Sunday February 24 from 10 am to 3pm
Head to Ten Trails on Sunday, February 24th from 10 am to 3 pm for the first time home buyer educational class which will take place in one of the  Conner Homes  Ten Trails homes at 32945 Crystal Lakes Lane, Black Diamond, WA 98010. Lunch will be provided.
RSVP to Reserve Your Spot
Make sure to RSVP to the first-time home buyer education event via Debbie Leviton at 206.406.1058 or debbie.leviton@caliberHomeLoans.com
While you are at Ten Trails, be sure to stop by our Welcome Center to learn all about our community and visit our builders' model homes!
*Some restrictions apply…see a Conner Homes site agent for specifics and details.
www.TenTrails.com
360-469-4043
The Ten Trails Winter 2019 Newsletter is Here!
The Ten Trails Winter 2019 Newsletter is Here!
Read all the latest news and information on this new master-planned community, located in Southeast King County! Featuring new single family homes, modern duplexes townhomes, parks, trails and a retail village!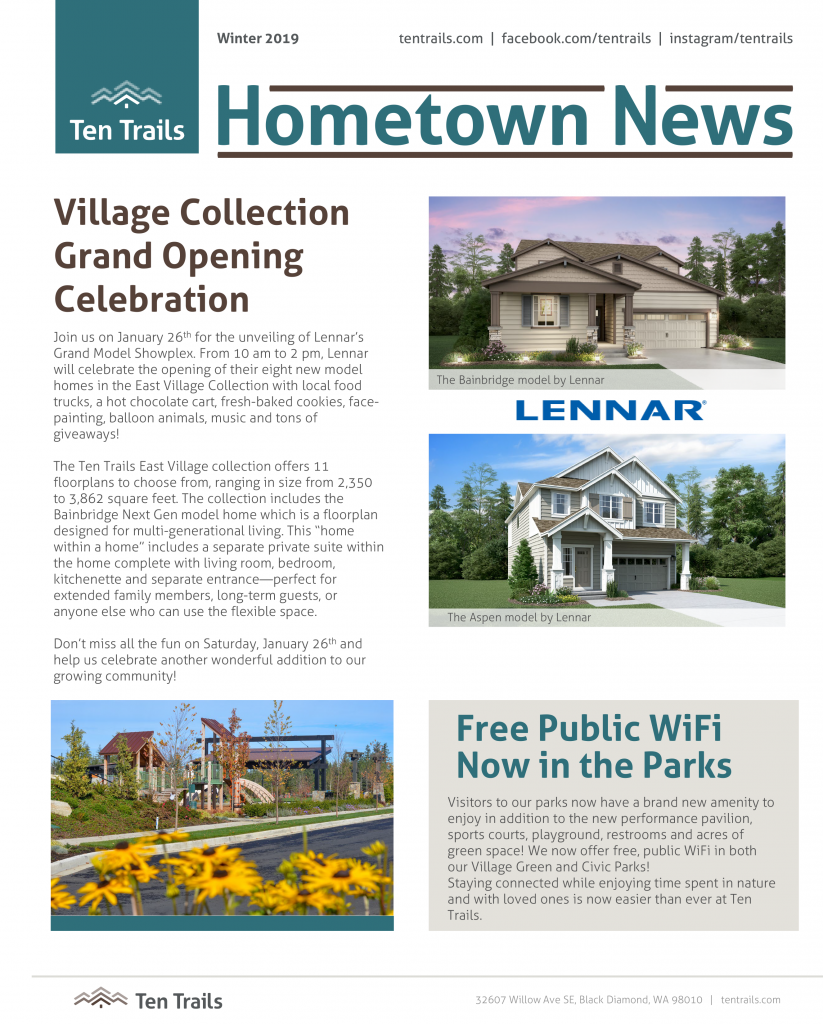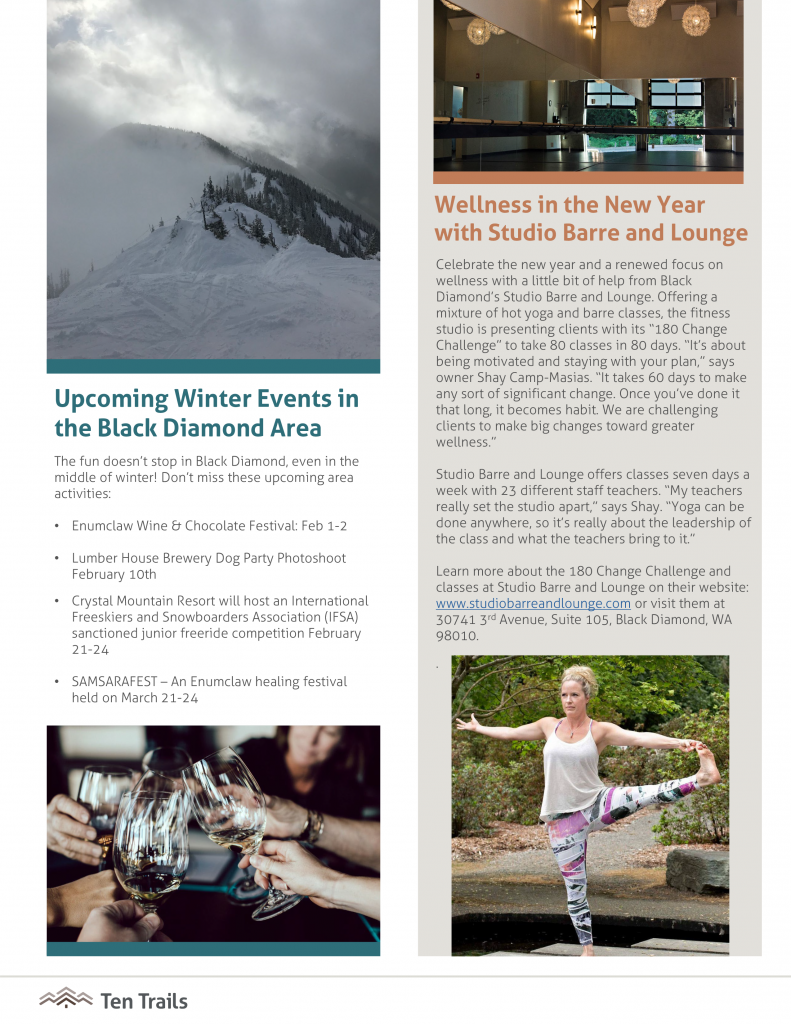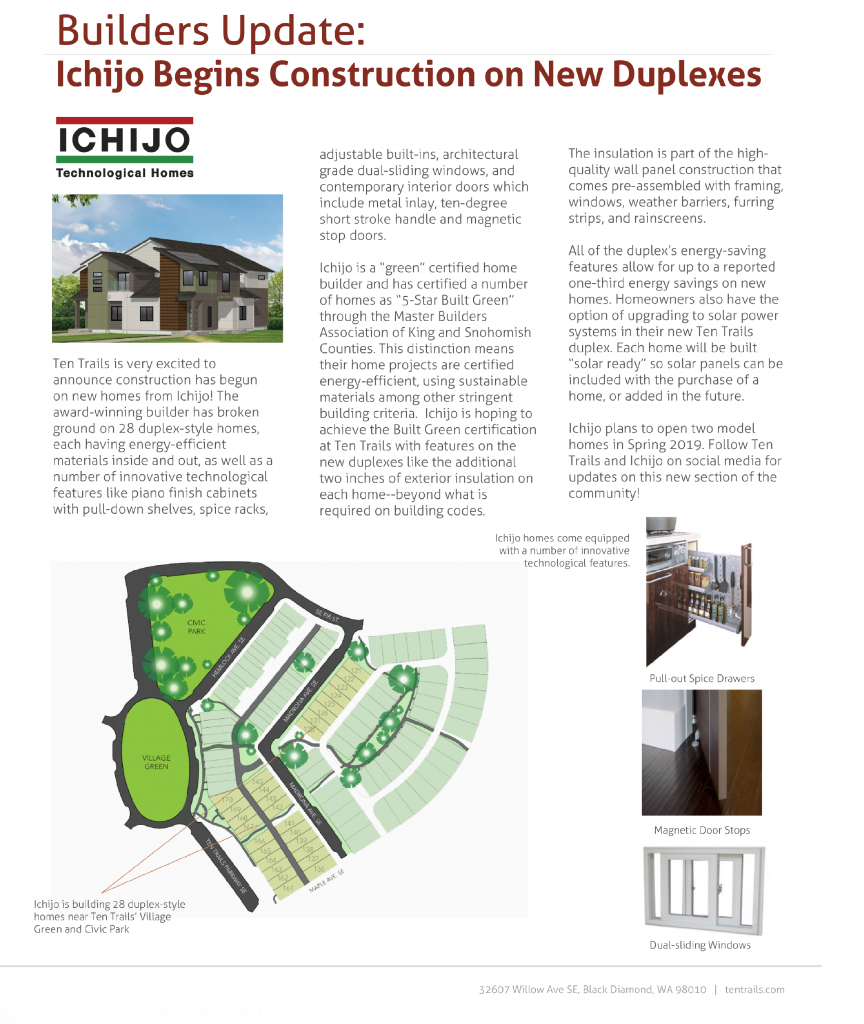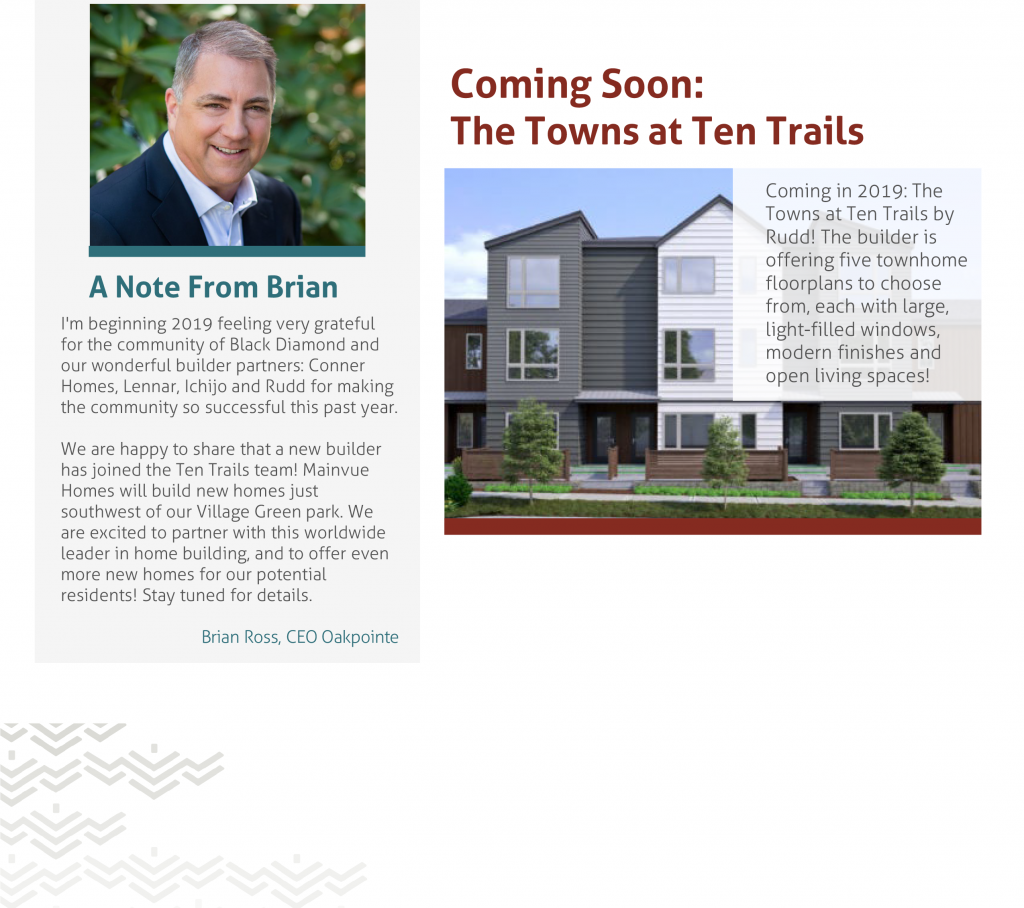 www.TenTrails.com
360-469-4043
Enumclaw's Wine and Chocolate Festival
Enumclaw's Wine and Chocolate Festival
Enumclaw's 11th Annual Wine and Chocolate Festival is returning to the local fairgrounds on February 1st and 2nd! A short, 20-minute drive will transport you from Ten Trails to Enumclaw for an opportunity to sip, swirl, sample, and shop. This popular event averages more than 2,000 attendees and features over 25 Washington State wineries, serving up to 80 wines for tasting.
Chocolatiers, gift, and artisan vendors join the wineries in filling two buildings at the Enumclaw Expo Center. Each building features a stage with live musical entertainment as guests enjoy the festive atmosphere while they mingle and browse.

Ticket Information
There are several ticket purchase options for the Enumclaw Wine and Chocolate Festival!
One-Day Admission: $30 Ticket good for Friday OR Saturday
Two-Day Admission: $45 Ticket good for Friday & Saturday
Designated Driver:  $10 Ticket good for Friday OR Saturday
Each admission includes a commemorative wine glass and six complimentary wine tasting tickets. Additional tasting tickets can be purchased at the event  at 10 tickets for $10. A designated driver ticket includes entry into the event and one bottle of water – it does not include a wine glass or tasting tickets.
Advance admission tickets can be purchased at:
https://www.brownpapertickets.com/event/3818107
Event Hours
The event takes place Friday, February 1st   4 p.m. – 10 p.m. and
Saturday, February 2nd   2 p.m. – 10 p.m.
Location
The Enumclaw Expo Center can be found on the fairgrounds at 45224 284th Ave SE, Enumclaw, Washington 98022
Additional Information
Beer tasting is also available, and parking is free. Bottles of wine can be purchased from wineries at the event for a discounted price. Ticketholders must be 21 years of age or older and present valid identification at the door.
Visit the event's Facebook page at www.facebook.com/events/274874266493038/
Grab some friends, go to Enumclaw, and enjoy some gourmet chocolates, Washington wines, and live music. You deserve it!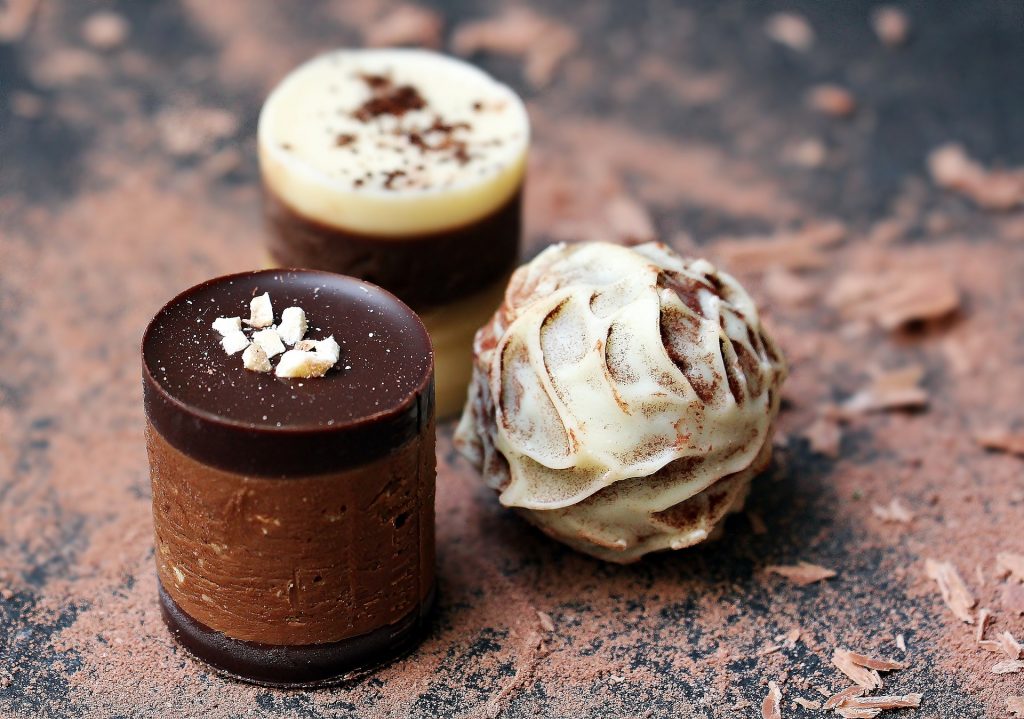 www.TenTrails.com
360-469-4043