Halloween Events
Nearby Halloween Events
Just a few more days until Halloween and there are still plenty of activities to do to get in to the spooky spirit of the holiday! Check out these nearby, family-friendly activities with your kids this week!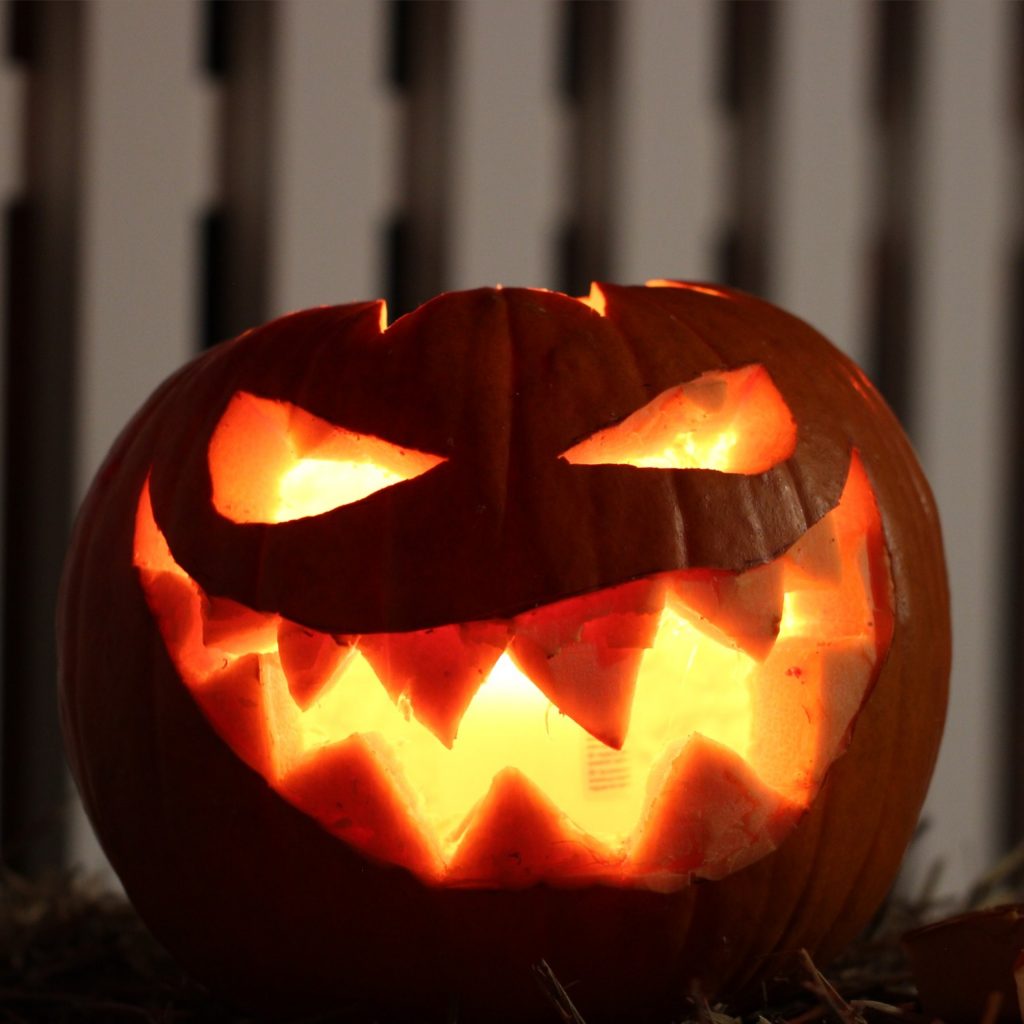 Dark Haunted Forest Maple Valley
Take a spooky tour through the haunted forest with your little ones on October 30 and 31st at Royal Arch Park, 20821 Renton Maple Valley Hwy SE from 7-10 pm.  In addition to the walk, there will be concessions and classic horror clips playing while you wait in line.
Trick-or-Treat at the Pacific Science Center
Head to Seattle's Pacific Science Center from 4 to 7 pm on Tuesday, October 30th for trick-or-treating and half-priced admission! Kids can take part in spooky Halloween activities and stage and planetarium shows.
11th Annual Hallo-Wee Story Time and Parade
Head to the Auburn library at 1102 Auburn Way South for their 11th Annual Hallo-Wee Story Time and Parade! Kids in costumes can parade around the library and cozy up with friends and family members to hear a not-too-scary Halloween story.
Renton Ikea Trick or Treat
From 4 to 7 pm at the Renton Ikea, kids can trick-or-treat throughout the store for candy and toys. Bring the kiddos for a fun, safe afternoon of trick-or-treating, and get some shopping done for  your new Ten Trails home at the same time!
www.TenTrails.com
360-469-4043
Black Diamond Elementary School
Black Diamond Elementary School
Ten Trails kids who are elementary school age currently attend the brand new Black Diamond Elementary School. Located just minutes from Ten Trails, the new school's mission is to be a "thinking and sharing community that inspires learning."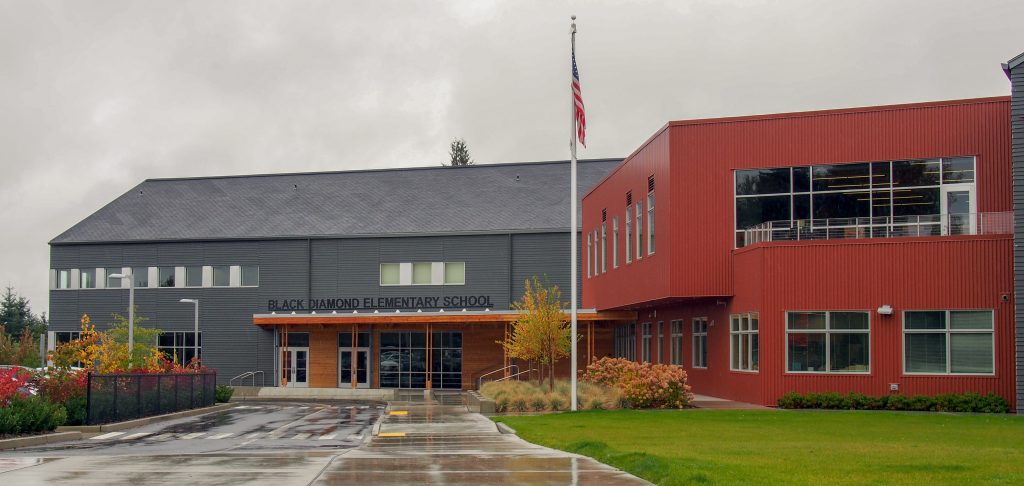 Focus on Individual Learning and Needs
All the staff members at Black Diamond Elementary School are focused on supporting each individual child. There's a focus on achieving learning goals to meet standardized testing reports, but also on each child's own needs. At Black Diamond Elementary School, they believe each child is unique and so is their learning style.
Black Diamond Elementary School has a program for "highly capable" student for grades 3-5. These students take part in a half day program where a teacher comes in and works with them on special projects.
Arts Education
Of further interest to parents is Black Diamond Elementary's focus on arts education. They have their own kiln in the arts room and dedicated space for creating and displaying student artwork..
Active PTA
In addition, the school has an extremely active PTA that regularly hosts events such as Muffins for Moms, Donuts for Dudes, Holiday Craft Bazaar, a Spring Carnival, ice cream socials and movie nights.
Learn More or Schedule a Tour
For more information or to schedule a tour, contact the Black Diamond Elementary School at 360-802-7570, 25314 Baker Street, Black Diamond, WA 98010.
Annual Cedar River Salmon Run
Annual Salmon Spawn in the Nearby Cedar River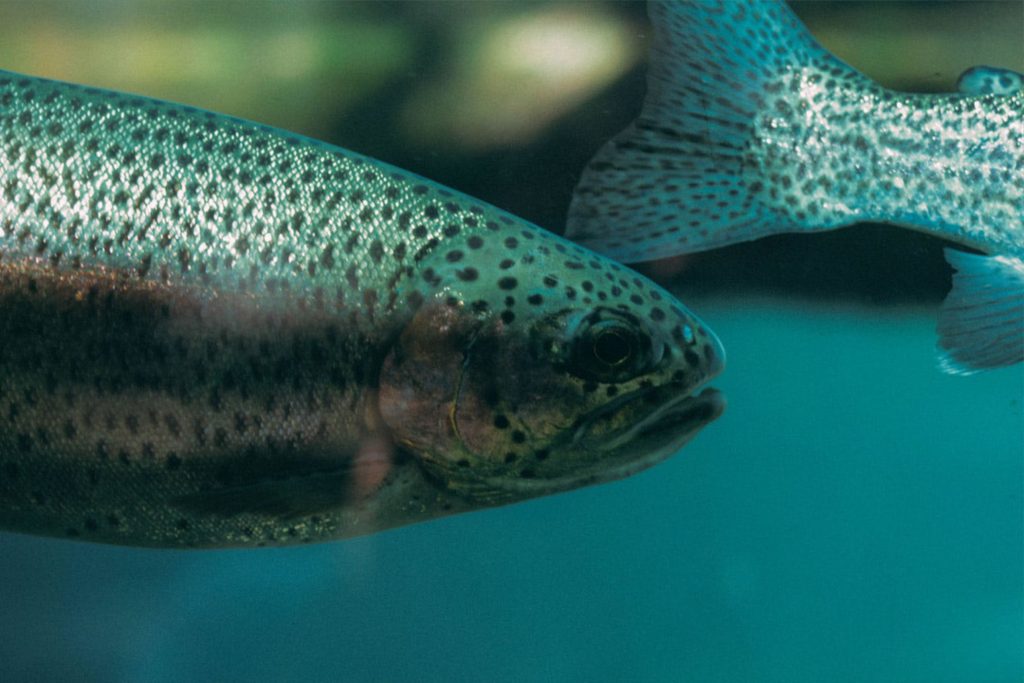 Right now is the time of year that salmon are embarking in their long journey upstream to spawn. The annual migration is one of the Pacific Northwest's most awe-inspiring biological phenomenons and it can be viewed in person just minutes from Ten Trails!  Just a few miles from community, the Cedar River boasts Sockeye, Chinook, and Coho salmon–all of which can be viewed completing their migration. Within a short drive from the community, you and your family can learn from local naturalists about the annual travels that salmon take from the Pacific Ocean to the Cedar River to spawn.
Guided Tours with Local Naturalists
Aside from being fun to watch, the salmon migration offers a great opportunity for a learning experience for the entire family!  Naturalists are onsite at Landsburg Park in Ravensdale during the hours of 11 a.m. to 4 p.m. on October 20, 21, 27 and 28. Visitors will have the opportunity to look for the brightly-colored Sockeye in the river and learn about the yearly migration from experts in the field. Interaction and questions are encouraged, especially from younger participants.
Walking Tours of Landsburg Dam
In addition, Ten Trails families can take a 40-minute walking tour up to the Landsburg Dam and learn about the Seattle area's water supply as well as how salmon are allowed to pass above the dam. This is a free tour that is perfect for the whole family.
To learn more about the salmon run at Cedar River, visit Seattle's Child's website. 
Directions to the Landsburg Park and Dam
The Landsburg Park and Dam is located at SE 252nd Pl. & Landsburg Rd. SE, Ravensdale WA 98051
Follow Hwy. 169 southeast from I-405. Shortly after crossing under Hwy. 18, turn left (NE) at light on SE 216th Way. Go about 3 miles. Turn right (S) on 276th Ave. SE. Go about 1.5 miles. As you drive downhill, Landsburg Park will be on your left. Parking is available on the left and right sides of the road. Please note, the last tour leaves at 3:15pm.
www.TenTrails.com
360-469-4043
Crystal Mountain Ski Resort
Visit Nearby Crystal Mountain Ski Resort
Convenient Location, One Hour from Ten Trails
Ten Trails residents can count themselves lucky to have quick and easy access to Crystal Mountain Resort! Just about a hour away from the community, residents can find some of the best skiing in the area. Crystal Mountain has runs for all skill levels, so beginners and expert skiers can enjoy a day on the mountain. Crystal Mountain is also kid-friendly with programs in place to teach younger skiers.
Ski Season is Coming Soon
With snow already reported at the resort, it won't be long until Crystal Mountain opens for the 2018-2019 ski season! Crystal typically opens for the season in late November. In addition to skiing, there resort also has snowshoe trails for wintertime visitors to enjoy.
Ikon Passes on Sale Now
Crystal Mountain is part of the Ikon pass for the 2018/19 season! Ikon pass holders have access to not only Crystal Mountain, but a number of legendary mountain ski resorts in North America, Japan and Australia. Ikon passes are on sale now through December 13th. To purchase an Ikon pass, visit www.ikonpass.com.
Summertime Visits
Not a fan of skiing? Crystal Mountain offers summertime recreation opportunities for those who prefer warmer weather activities. The resort has a number of hiking and horseback riding trails, offers interpretive nature walks as well as mountain yoga classes.  Visitors can also buy tickets to ride in the Mount Rainier Gondola from June to September. Climb 2,000 vertical feet to the summit of Crystal Mountain and take in sweeping views of Mt. Rainier, wildflower meadows and the Cascades.
www.TenTrails.com
360-469-4043
Autumn 2018 Newsletter
Autumn 2018 Newsletter
Read about all the latest news about Ten Trails in our Autumn 2018 Newsletter!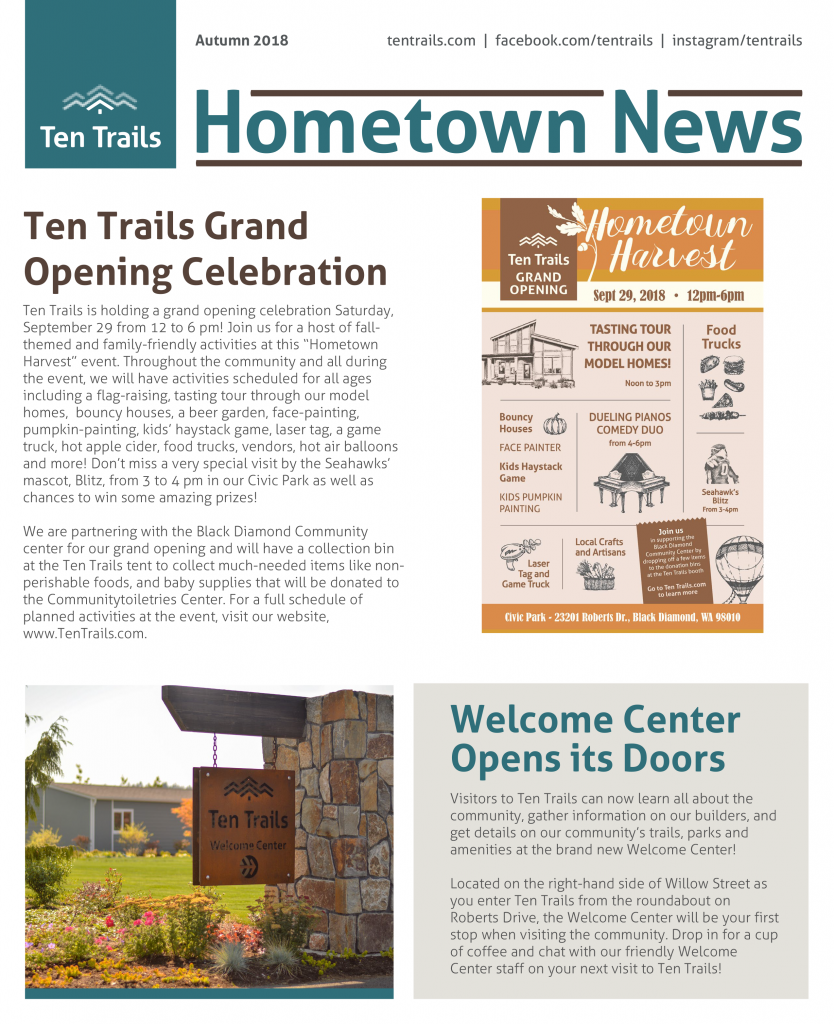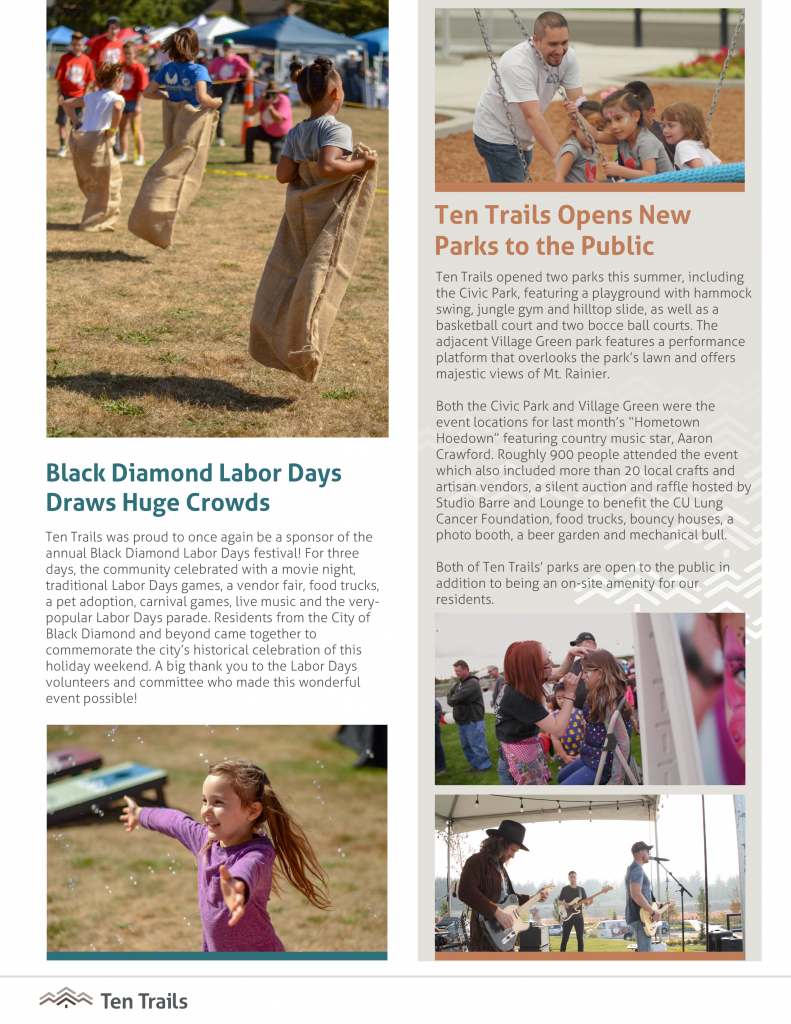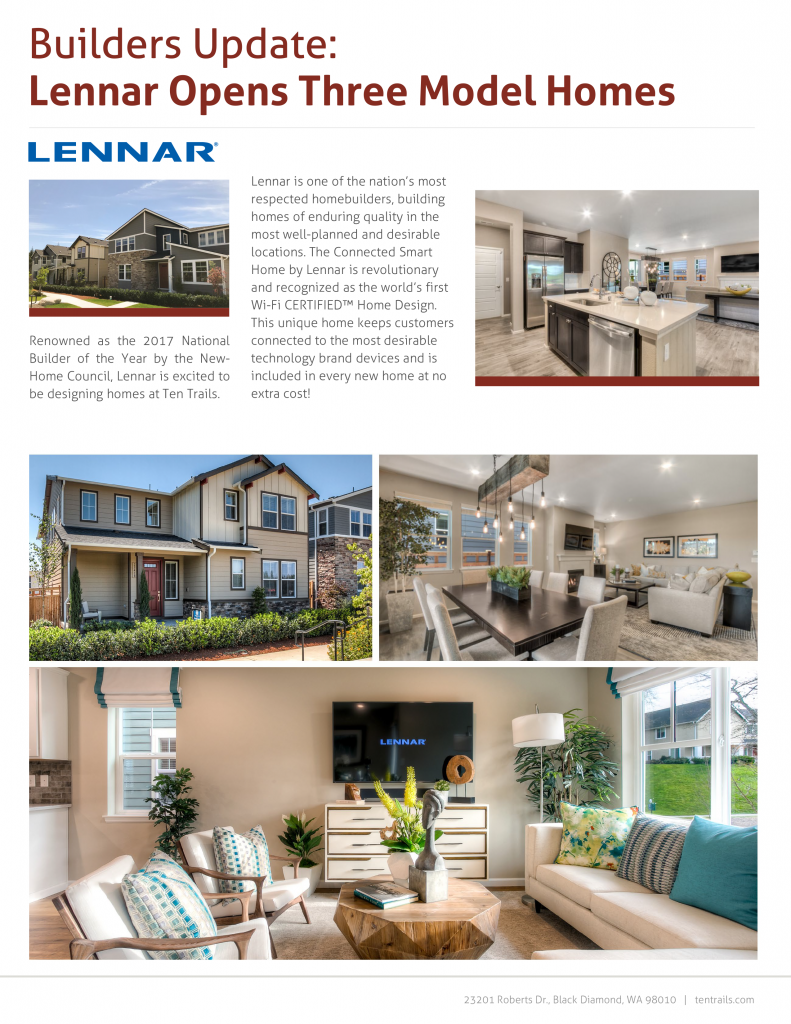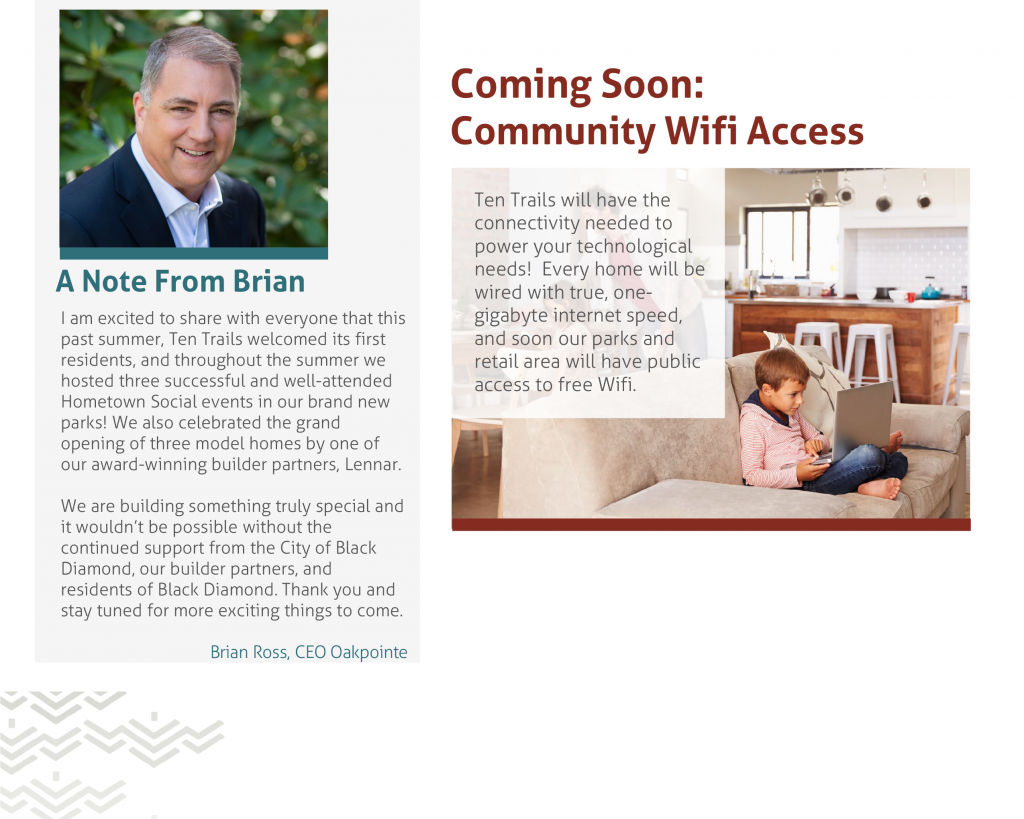 Ten Trails Welcome Center Now Open
Ten Trails Welcome Center Now Open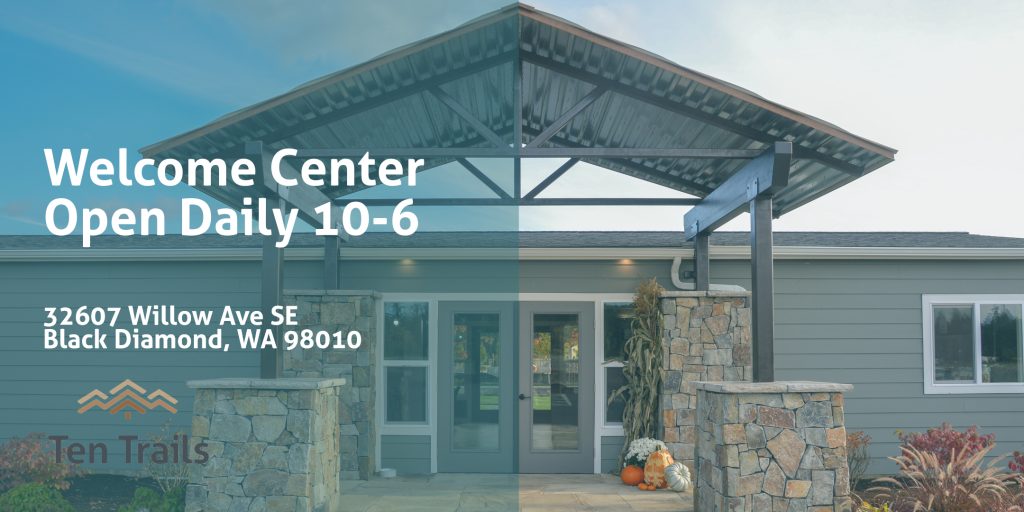 The Ten Trails Welcome Center is now open daily from 10 am to 6 pm. Stop by to browse our builder displays, grab literature on the community's amenities, parks, trails, schools, retail center and more, and chat with our friendly Welcome Center Staff about what make Ten Trails a community like no other in the area!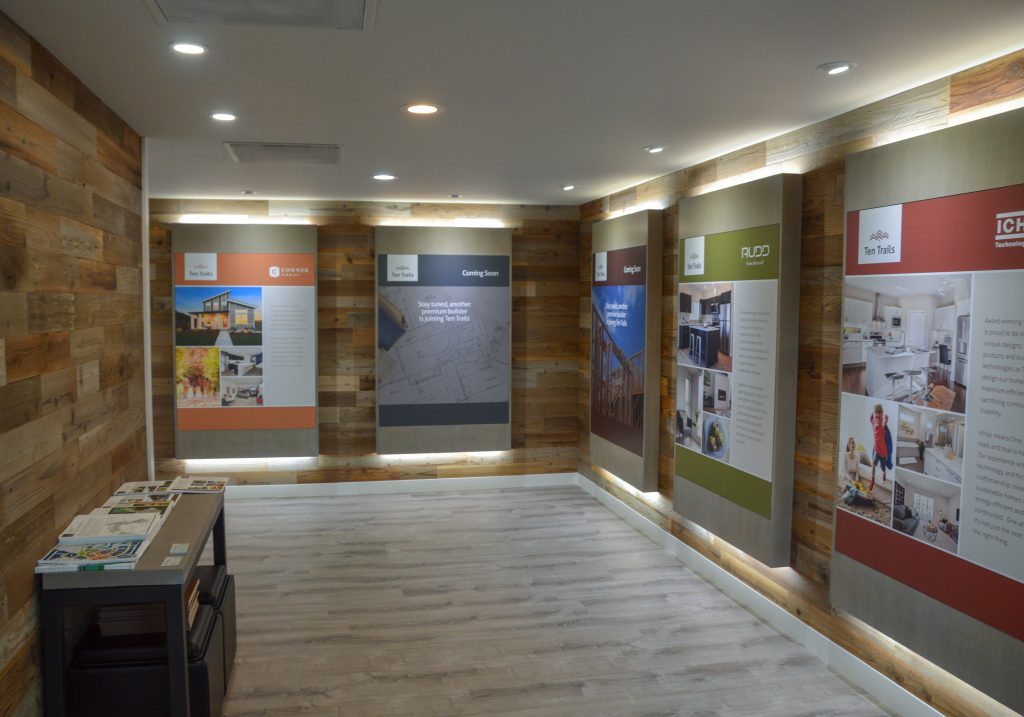 Our Welcome Center features information from our four builder partners: Conner Homes, Lennar, Rudd and Ichijo.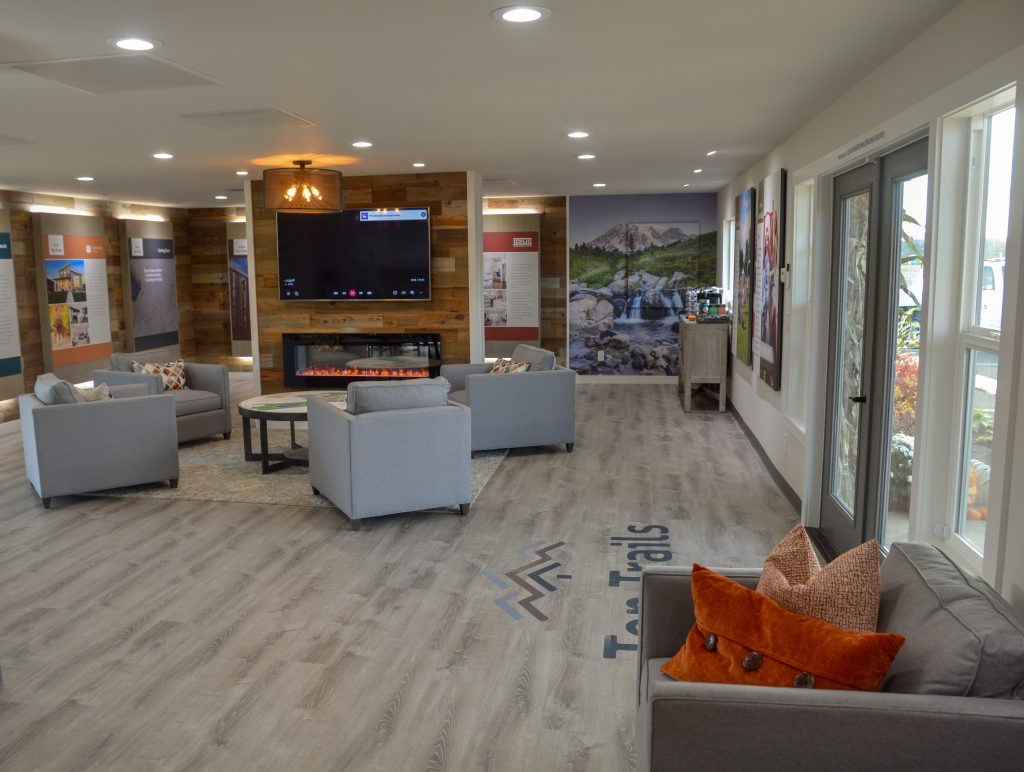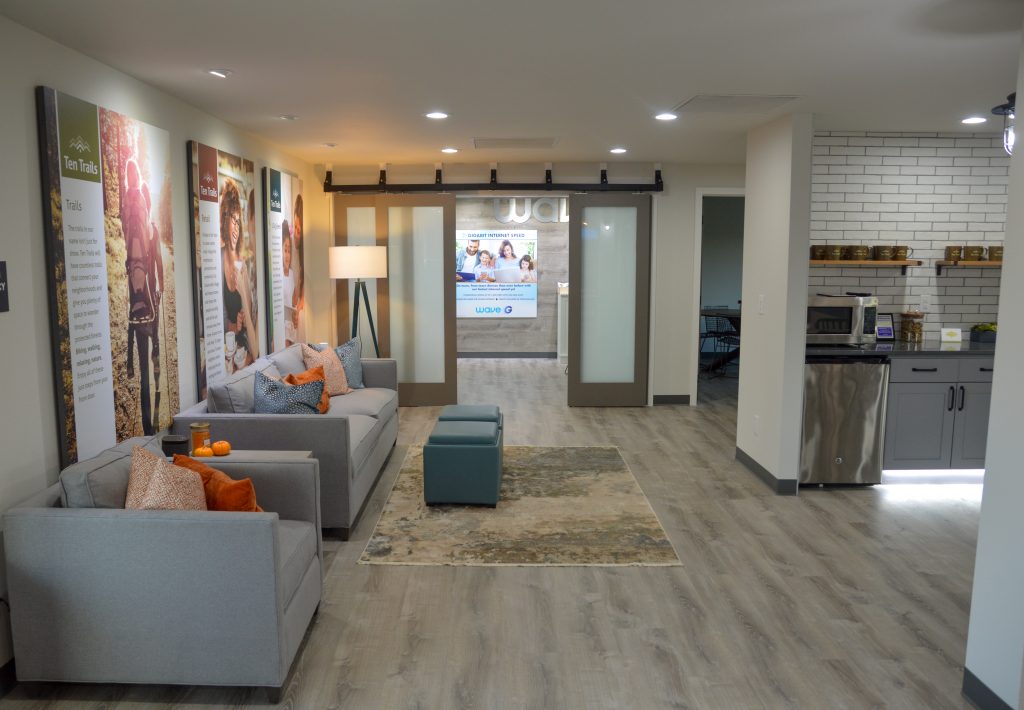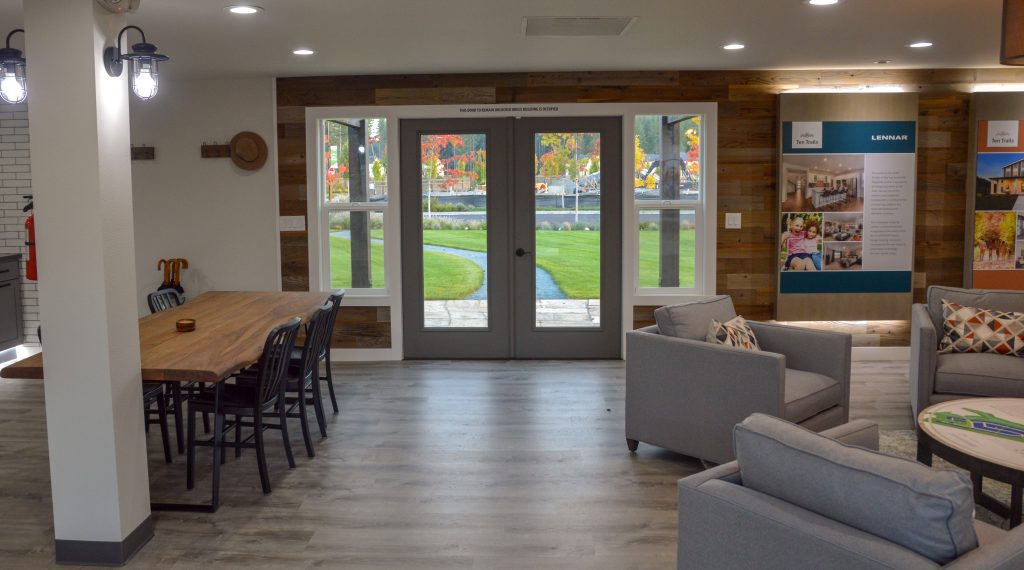 Visit us today at 32607 Willow Ave SE, Black Diamond, WA 98010 or give us a call: 360-469-4043.
www.TenTrails.com
360-469-4043
Enjoy 1-Gig Internet Speed in Your New Ten Trails Home
Enjoy 1-Gig Internet Speed in your New Ten Trails Home

Ten Trails has partnered with Wave Broadband to offer all residents 1-gigabit internet service to their homes in addition to free Wifi in the retail center and parks. Wave G's Gigabit Internet is a commercial-grade internet service that provides downloads and uploads up to 1,000 Mbps, with fast performance and streaming . There are no data caps included with your service in your Ten Trails home, so feel free to surf and stream on multiple devices throughout your home.
Gigabit Ready, and Included in HOA
Most important to note, your new home at Ten Trails is pre-wired for Wave G Gigabit Internet and the cost of the service is included in your HOA fees. New residents just have to sign up, get connected and start enjoying great internet service.
Symmetrical Downloads and Uploads
Secondly, Wave's symmetrical download and upload speeds allow for ultra-quick file transfers and make cloud back-up service much more accessible. You will enjoy commercial-grade internet in your new residential home.
Add in Extras to your Wave Service at Ten Trails
Wave Broadband offers a number of "extras" which can be added to your Gigabit Internet service in your Ten Trails home. For the easiest and best, WiFi experience, add a Wave G gigabit-compatible router. Homeowners can opt to set it up themselves, or have a Wave representative do it for them. Homeowners can also add a Wave G Phone for unlimited nationwide calling in addition to a Wave Cloud Phone app which provides international calling anywhere there is a WiFi connection. Wave is also offering Ten Trails homeowners an opportunity to "cut the cord" and get their television service through their Roku devices.

Dedicated Service from Local Representatives
Wave G believes in providing customer support that's actually supportive. Their local service is fast, friendly and is offered 24/7. For questions regarding service in your Ten Trails home, contact Wave representative, Steve Pursley at spursley@wavebroadband.com or 206-681-6002.
www.TenTrails.com
360-469-4043
Ten Trails Grand Opening Celebration
Ten Trails Grand Opening Celebration
Ten Trails held their Grand Opening Hometown Harvest celebration on September 29, 2018. As part of the afternoon celebration, there was a tasting tour held throughout the Welcome Center and the model homes, in addition to activities for kids held in the Civic Park and Village Green like laser tag, a game truck, face-painting, bouncy houses, relay races, and more!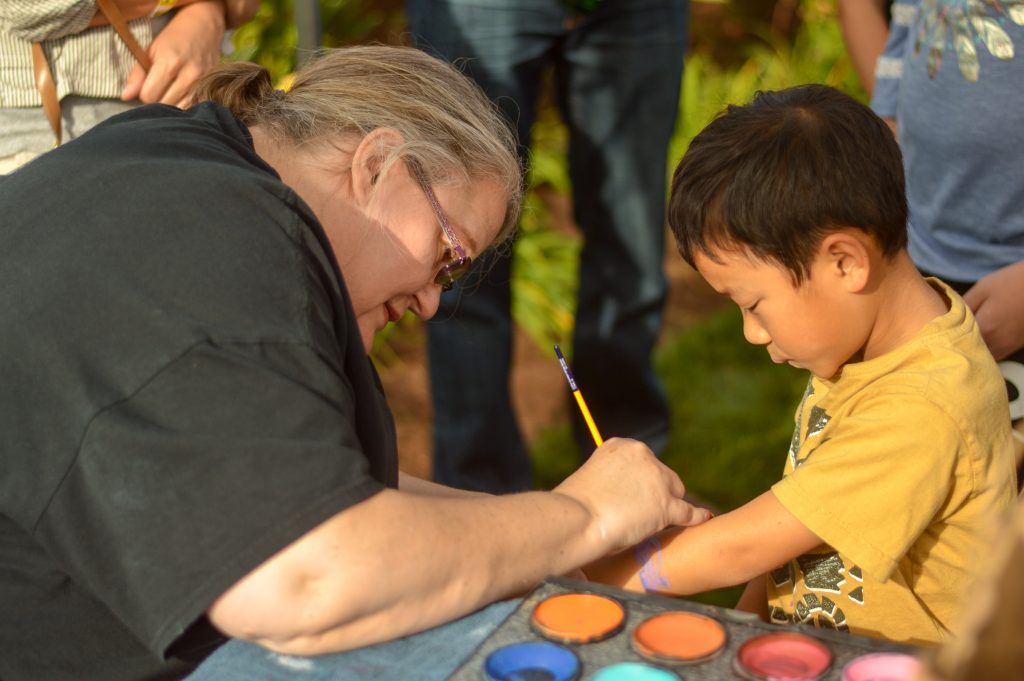 Live Music
Live music was provided by Jeff and Rhiannon, of Noteworthy Productions.  From 4 to 6 pm, on the performance stage in the Civic Park, the musical comedy team performed hits new and old to a crowd of families and children.

Hot-air Balloon Rides
Hot-air balloon rides were provided by Seattle Ballooning and were held at the end of the event from 5 to 6 pm. At the end of the event, a winner was drawn for the  personal ride for two, compliments of Ten Trails!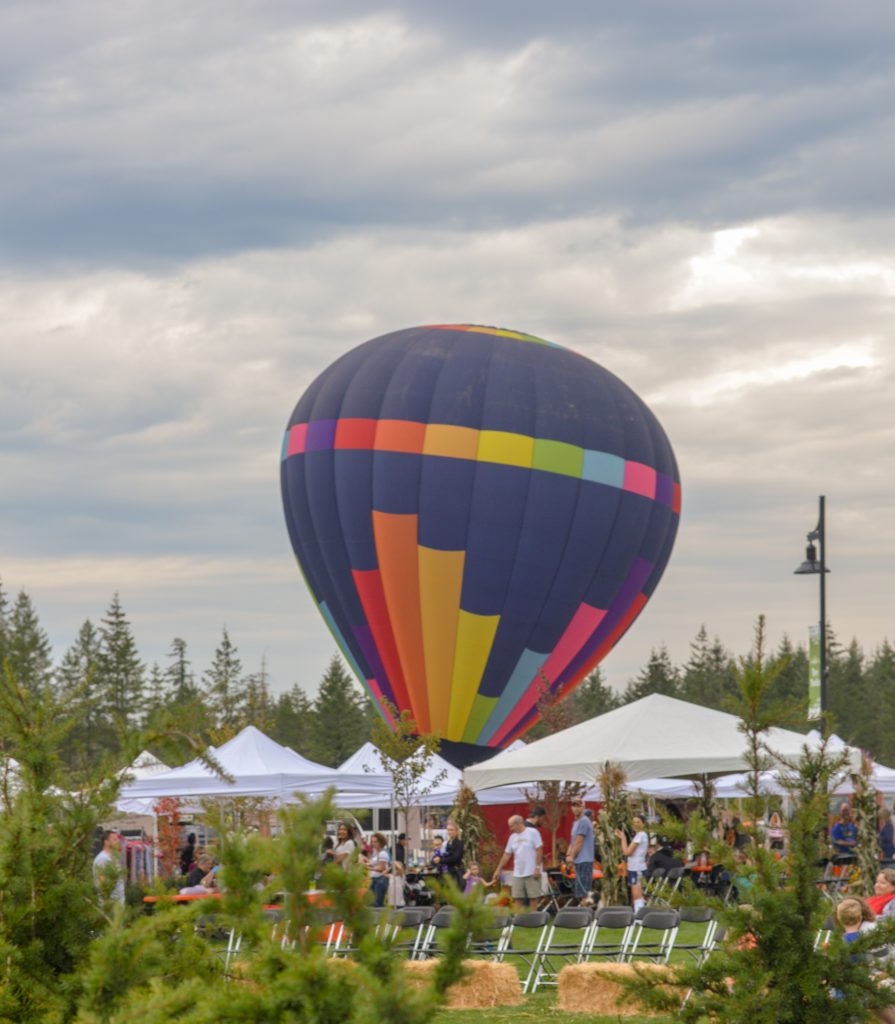 A Special Visit from Seahawks' Mascot, Blitz
The day also included a special visit from Seahawks' mascot, Blitz, who greeted the crowd and posed for pictures.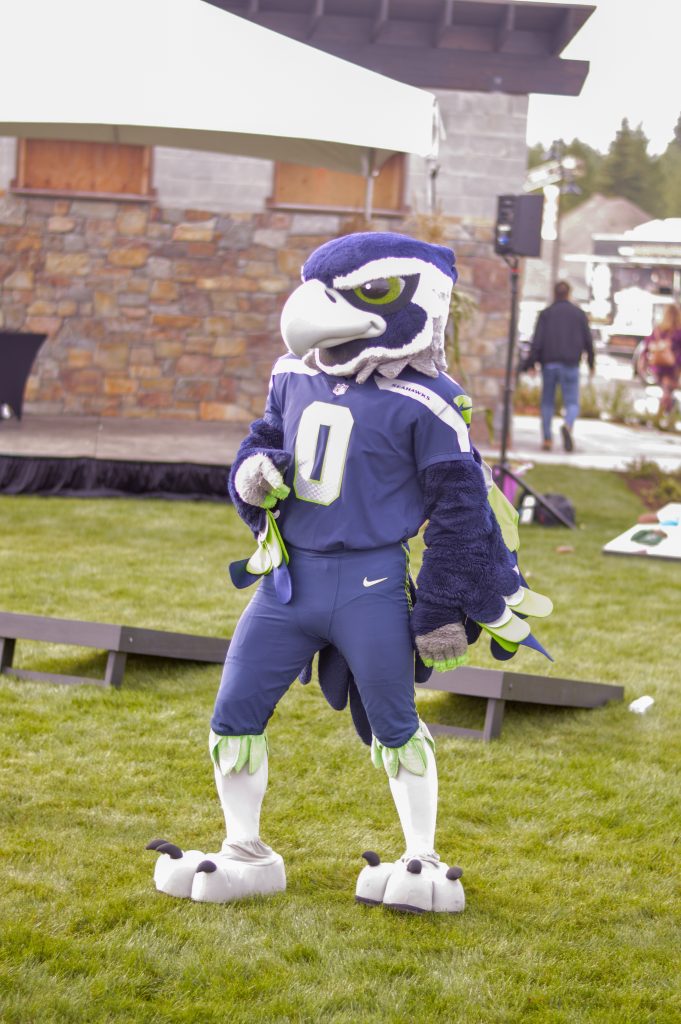 For more photos and a video of the event, visit our Ten Trails Facebook page. Thanks to everyone who came out for this wonderful event!
360-469-2023
www.TenTrails.com