Ten Trails Welcomes First Residents 
Ten Trails' new residents, the McFadden Family, Join us for a Photoshoot and Chat at Ten Trails' New Civic Park 
It's early on a summer morning in late July and all is quiet within Ten Trails' new Civic Park. In the distance, construction workers are beginning their day at Lennar and Conner Homes' jobsites, and two children can be seen running up the community's paved pathways toward the park. It's the two oldest McFadden children, Damian and Nelly, who arrive slightly breathless and eager for their photo to be taken.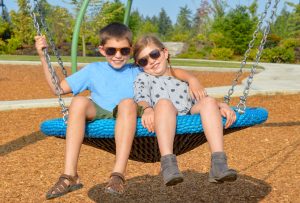 A short while later, their mother, Leyah, and father, Marty arrive with the two younger McFaddens: Rosy and baby Griffin. The family of six is a happy group, and they are particularly pleased to be back in the Seattle area after living in Utah for the past two years. Originally residing in the Bothell area, the McFaddens had to relocate to Utah for Marty McFadden's work, but now his job as facility manager brought him back to King County and to where the family desired to be: in close proximity to nature. "We really wanted to be close to outdoor activities," explains Leyah when asked one of the main reasons they decided to purchase a home in Ten Trails.
Ten Trails offers the family everything they were looking for: nearness to nature, easy access to Marty's work, amenities like the community's large Civic Park, and miles of accessible biking trails…something Leyah missed while living in the hilly suburb of South Jordan, Utah.
The family is no stranger to master planned communities, having just lived in Daybreak, a 4,000-acre planned community located southwest of Salt Lake City. To the McFaddens, Ten Trails' focus on lifestyle and community-building was a familiar concept, and they look forward to being able to get to know their new neighbors and enjoying new amenities as Ten Trails expands. The community's built-in gathering spaces as well as monthly family-centric events were also things that appealed to the couple.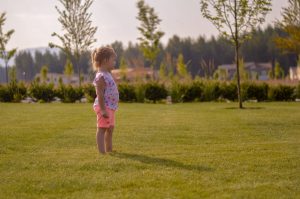 Beyond embracing Ten Trails' location and lifestyle, the family has also been enjoying settling in to their new home, built by longtime local builder, Conner Homes, one of the four builders announced for far at Ten Trails. "It's perfect for how we live," says Leyah. The open-concept plan with upstairs loft is the ideal layout or the active family, and its nearness to community green spaces provides the children ample space to play beyond their low-maintenance backyard.
One new favorite family hangout spot for the McFaddens is the Civic Park. In particular, the family has taken a liking to the hammock swing.  "This is the best thing at this park….it's even fun for adults," Marty jokes. Damian and Nelly have enjoyed exploring the park and having it largely all to themselves over the past couple of weeks while they wait for new neighbors to move in. "My mom says this is our park," Damian says.  Leyah laughs and adds, "Yes, for now it is."
www.TenTrails.com
360.469.4043