Black Diamond Miner's Day 
This Saturday, July 7, head to historic Black Diamond, Washington for a celebration of the city's history. The Miner's Day Festival brings together residents of the city and visitors from surrounding areas to take part in a number of activities, including, skits, live music, dancing, a vendor fair, 5k race, donut-eating contest and more!
Celebrate Black Diamond's Coal-Mining History 
Black Diamond's history as an important coal-mining location helped shape the city and brought immigrants and new residents from all over the world. Today, Black Diamond residents remember the city's roots through this annual celebration which honors the city's rich history and brings the community together through a number of fun activities.
Fun for the Entire Family at Miner's Day
Miner's Day has activities to keep the whole family entertained! Start the day with a 5k race which begins with the sound of the historic coal mine disaster siren. Throughout the day, visit vendor booths, take part in the donut-eating contest, enjoy live music and a vintage fashion show!
Miner's Day 5k Run 
Racers can sign up the day of the race, or visit their race site to pre-register. The race begins at 9 am and the course meanders through historic downtown Black Diamond.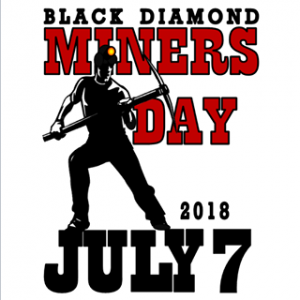 www.TenTrails.com
360.469.4043